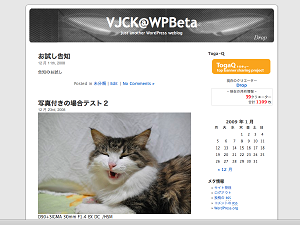 looks like this
•Description
This plugin add Toga-Q function onto your WordPress blog system.
•What is "Toga-Q" ?
Toga-Q is name of "top banner sharing project". With using Toga-Q plugin, you do not have to worry about top banner anymore, the plugin automatically selects one from collection of beautiful banners each time displaying your page.
*If you can read Japanes, there's more documents here.
•Requirements
WordPress 2.5 environment
•Install and Settings
Step 1:
Place all files into your /wp-content/plugins/togaq directory and activate through the administration panel.
Step 2: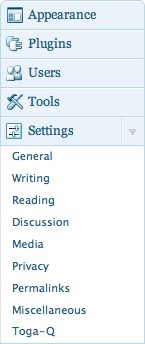 At left side of your administration panel (WP 2.7), You will see "Toga-Q" menu at bottom of "Settings" section. Click it to open Toga-Q configuration panel.
If you do not, you did not activate Toga-Q plugin so back to step 1 and activate it.


Step 3:

This is Toga-Q for WordPress configuration panel.
Display Pattern
This is how you want to change images. Each time means each time you reload the page. First, try 'each time', 'random', 'random' so you can see different images every time you open your pages.
Toga-Q Image Positioning
After you installed, you can adjust where you want to put Toga-Q image. The default value is top-0, left-0. Also, you can adjust height of image. The original image height is 100px so it should not adjust if you do not want to see rough image.
Blog Title
Normally, the blog title will be written by text (if you do not understand what 'text' means, it's ok). When you create your own image for frame of banner, change this value either 'Use Image' nor 'Use Both'. If you select 'Use Both', the blog title which by text will overwrite on both Toga-Q image and your imaged frame.
Following text box is location of your banner frame. It should be placed in your current theme file, and enter its location here. The format is:

theme_folder_name/location_of_image_filename
The image frame should be png file (or gif file).
*if it would not work with your server, try full-path.
Step 4:
When you finish Toga-Q configuration, now it is time to add Toga-Q code into your theme file. This part was very troublesome in a past version, but Toga-Q for WordPress is very easy.
If you open 'Header' section at Appearance-Editor menu, you will see some HTML looks like this at bottom of editable area:

<div id="header">
<div id="headerimg" >
<h1><a href="<?php echo get_option('home'); ?>/"><?php bloginfo('name'); ?></a></h1>
<div class="description"><?php bloginfo('description'); ?></div>
</div>
</div>
<hr />
Simply remove 'headerimg' section (in blue) and replace it to Toga-Q code (in red). When you finished modification, it looks like this:

<div id="header">


<?php togaq_put_headerimage(); ?>


</div>
<hr />
That' all you need to do for theme file, so save it. The function 'togaq_put_headerimage()' will do everything what you need.
If you want use pre-installed theme file, you can download Toga-Q Default Theme based on default theme. See next section for details.
•Toga-Q Deafult Theme
Here's the theme file which Toga-Q pre-installed (sample above). Download it and put all into your WordPress's theme folder (Of course you must install toga-q plugin).
Open Toga-Q configuration panel and configure it:
Top offset: 18
Left offset: -60
Height: 100
Use both checked, and
"default_togaq/images/kubrickheader_togaq.png" for Title Image section.
Download via vjcatkick.com
•Sidebar Widget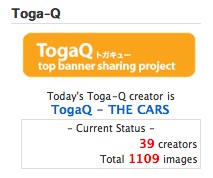 Toga-Q plugin package contains Toga-Q sidebar widget which displays current image information (with link to its creator's site) and total creators and images.
Go to the widget panel and drag it to where you would like to have it.
•Sidebar Widget Settings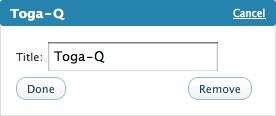 Title: Title text for sidebar
•Download
via WordPress.org
•Versions
0.1.0 – initial version
•Yes I want to join!
If you want to create your own set of banner images, yes you can. The dimension of image is 800px by 100px and file format is 72dpi jpg image. File names must be from 000.jpg, 001,jpg, 002.jpg and so on.
When you create them, upload anywhere you want and email us the location URL with your handle name, site address, email address and total number of images. Toga-Q project team will examine your image and renew our file to point your image location. No adult, no copyright violation, and other illegal images are not permitted.
You can find my email address on 'retaggr' at right side of my sidebar.
•If you like this
If you like this widget, writing small entry on your blog and trackbacking to this entry makes me really really happy!