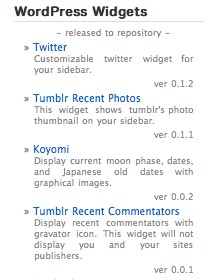 something like this
•Description
Display repository's your widgets list on your sidebar with local documentation page link, description, version and update.
*Developer only.
•Requirements
WordPress 2.5 environment
Subversion Repository account with your own made widget registered
•Install
Place file in your /wp-content/plugins/ directory and activate through the administration panel, and then go to the widget panel and drag it to where you would like to have it!
•Settings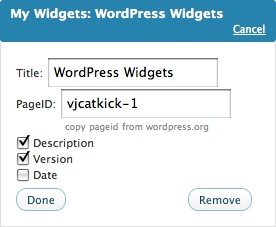 Title: Title text for sidebar
Page ID: your WordPress.org page id (see below)
Description: check if you want to display widget's description.
Version: version string to display.
Date: updated date.
•How to get your page ID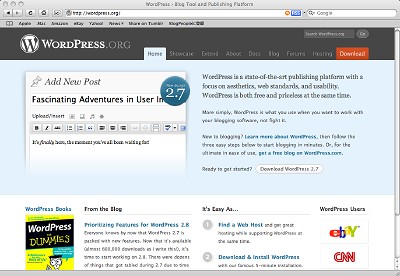 First, open WordPress.org. You must have account and log in if you are not logging in.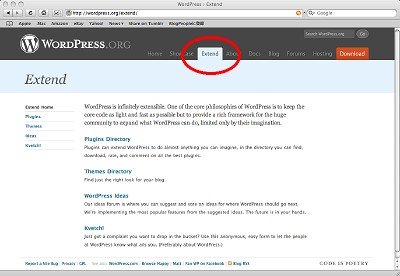 Then Press 'Extend' tab. Then click 'Plugins' link (at left) to open plugin directory page.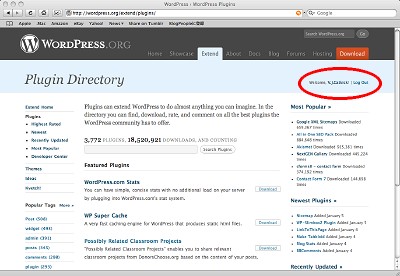 At top-right of plugin directory page, you can see your name and 'logout' link. Click 'your name'.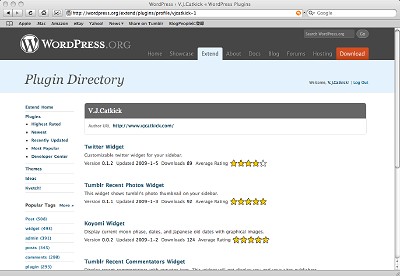 By clicking 'your name' at plugin directory page will pull 'your' widgets' directory page (normally, it is first page if you have more than two pages). Check out your browser's address bar (text area you enter web address).

The last word is your page id (not include slash, this case, 'vjcatkick-1′ is page id). Copy your page id and paste it onto option panel.
Have fun!
•Download
via WordPress.org
•Versions
0.0.1 – initial version
•Notes
This widget pull your widget information from wordpress.org only once at hour. The data will be cached on your database, and if widget cannot pull data from wordpress.org, the cached data will use to display. If you want to 'refresh' cache, simply open option panel and press 'done' (no change requires).
•If you like this
If you like this widget, writing small entry on your blog and trackbacking to this entry makes me really really happy!