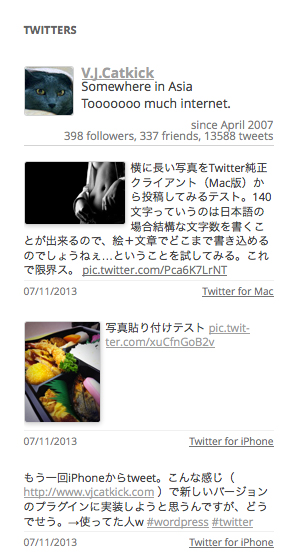 looks like this
•Description
Display twitter on your sidebar!
•Requirements
WordPress 3.0 environment
PHP version 5.3 or later
•Install
Place php file into your /wp-content/plugins/ directory and activate through the administration panel, and then go to the widget panel and drag it to where you would like to have it!
•Settings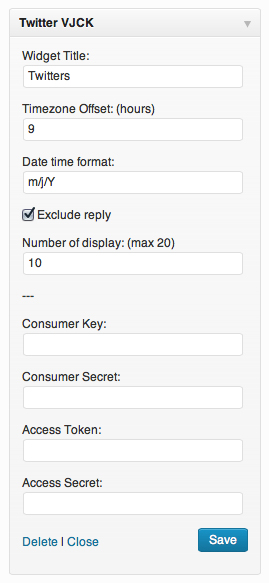 Widget Title: Title text for sidebar
Timezone Offset: hours, offset from UTC
Date time format: PHP style date format. see here to detail.
Exclude reply: if checked, plugin excludes "@" message (means reply message)
Number of display: 1 t0 20 (will count reply messages)
Consumer Key:
Consumer Secret:
Access Token:
Access Secret:
1) open https://dev.twitter.com/apps
2) sign in with your twitter account
3) click 'create new application' button
4) follow the instruction and save
5) copy and paste:
– Consumer key
– Consumer secret
– Access token
– Access token secret
onto wedget's control panel.
6) save
*NOTE: according twetter specification, this plugin will cache your tweets. Its cache lives fifteen actual minutes so you do not worry about traffic thing.
•Status codes

Status OK: this means plugin pulls the most recent tweets from twitter server and its list is latest.


Error 429: too much request to twitter server. it will be recovered within 15 mins.


Error 400: Bad request. if you see this error, you must check tokens and keys at control panel of this plugin. mostly missing keys.


Error 401: Unauthorized. it looks like 400, but maybe the key/tokens which you entered is incorrect. check them again or re-copy-paste.

*if the plugin detects error, the plugin tries to pull data from its cache so for example, error 429, plugin cannot pull data from server but it will display your tweet which generated last time.
*for more detail, please check official page: https://dev.twitter.com/docs/error-codes-responses
•Download
via WordPress.org
•Note
Twitter REST API library: tmhOAuth
*tmhOAuth was developed by Matt Harris (themattharris)
•Versions
* Jan 02 2009 – v0.0.1
- Initial release
* Jan 04 2009 – v0.0.2
- now data will be cached automatically
* Jan 05 2009 – v0.1.0
- Initial public release
* Jan 05 2009 – v0.1.1
- bug fix: http://twitpic.com
* Jan 05 2009 – v0.1.2
- new support: http://movapic.com (ke-tai hyakkei)
- support overflow on IE 6
* Jan 15 2009 – v0.1.3
- bug fix: source link is now open in new window
* Jan 29 2009 – v0.1.4
- added: date-time format configuration
* Jan 03 2010 – v0.1.5
- fixed: twitpic incompatibility fixed.
- added: display image option (when loaded)
* Jan 03 2010 – v0.1.6
- fixed: url position related bug
- added: hashtag link
* Jan 14 2010 – v0.1.7
- added: brightkite supported
* Jan 15 2010 – v0.1.8
- fixed: timezone issue
* Oct 23 2012 – v0.1.9
- quick fixed: support twitter api change – 10/15/2012
* Jul 11 2013 – v2.0.0
- all new code
* Jul 11 2013 – v2.0.0\1
- zip file fix
•If you like this
If you like this widget, writing small entry on your blog and trackbacking to this entry makes me really really happy!