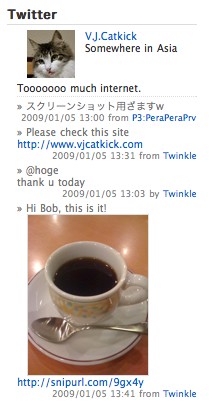 looks like this
•Description
Display twitter on your sidebar!
•Requirements
WordPress 2.6 environment
PHP version 5.1 or later
•Install
Place php file into your /wp-content/plugins/ directory and activate through the administration panel, and then go to the widget panel and drag it to where you would like to have it!
•Settings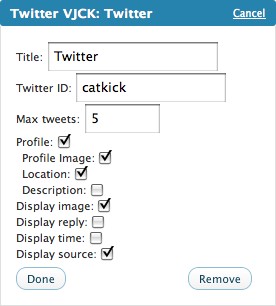 Title: Title text for sidebar
Twitter ID: the twitter id
Max tweets: how may tweets you want to display, maybe 5, 10 or so
Profile: ON/OFF switch to display profile section
Profile Image: if checked, you can see yourself :P
Location: Display location text
Description: Display description
Display Image: If you check this, by clicking contents shows its linked image (currently, it supports only snipurl.com and twitpic.com)
Display reply: if checked, you can see "@" message which you wrote
Display time: time tweeted
Display source: in what application you used
*NOTE: according twetter specification, this application will cache your tweets. Its cache lives five actual minutes so you do not worry about traffic thing. If you want to empty cache, just open option panel and press 'Done' (no change requires).
•On your sidebar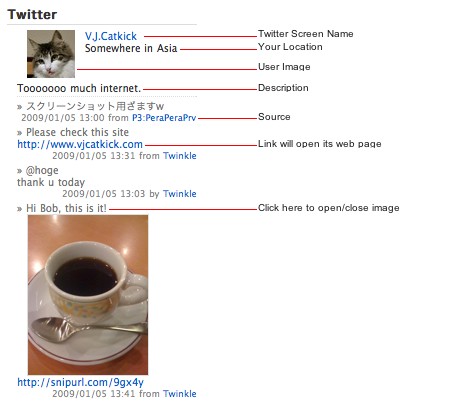 bra bra bra
•Download
via WordPress.org
•Versions
* Jan 02 2009 – v0.0.1
- Initial release
* Jan 04 2009 – v0.0.2
- now data will be cached automatically
* Jan 05 2009 – v0.1.0
- Initial public release
* Jan 05 2009 – v0.1.1
- bug fix: http://twitpic.com
* Jan 05 2009 – v0.1.2
- new support: http://movapic.com (ke-tai hyakkei)
- support overflow on IE 6
* Jan 15 2009 – v0.1.3
- bug fix: source link is now open in new window
* Jan 29 2009 – v0.1.4
- added: date-time format configuration
* Jan 03 2010 – v0.1.5
- fixed: twitpic incompatibility fixed.
- added: display image option (when loaded)
* Jan 03 2010 – v0.1.6
- fixed: url position related bug
- added: hashtag link
* Jan 14 2010 – v0.1.7
- added: brightkite supported
* Jan 15 2010 – v0.1.8
- fixed: timezone issue
* Oct 23 2012 – v0.1.9
- quick fixed: support twitter api change – 10/15/2012
•If you like this
If you like this widget, writing small entry on your blog and trackbacking to this entry makes me really really happy!